This post brought to you by Pier 1. All opinions are 100% mine.

Yay! Spring has finally come and very soon it will be time to dust off the patio furniture, spruce up your outdoor living spaces, and get ready to entertain! My wheels have already been turning and I've been keeping my eyes open for some great ways to add a little more to my outdoor decor.

If you're looking for some ideas for yourself--you should check out Pier 1. They have a great selection of new items they've introduced for Spring. And with all the styles they have to choose from, I guarantee you'll find something to work with yours. What are some of my faves? I'm glad you asked.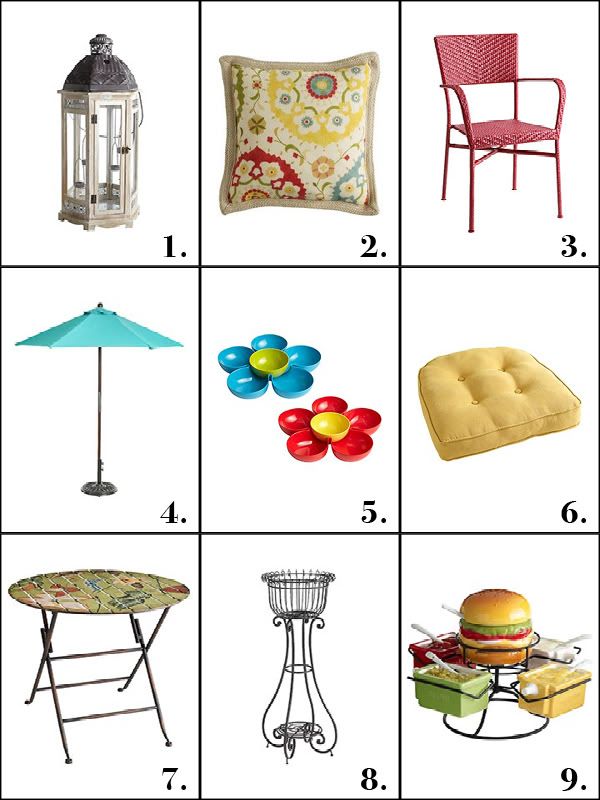 1. I am loving this White Wooden Lantern. And, like so many of Pier 1's products, it can be used indoors and outdoors! So, I could use it in my living room and then take it out for outdoor entertaining!

2. This Outdoor Kaeden Pillow is a great way to add a punch of color to a wicker chair or front porch swing. Love the pattern!

3. In the market for new chairs for your porch or patio? Make a statement with this Red Wicker Chair. And it's stackable for easy storage!

4. And speaking of great colors...this Aqua Market Umbrella would look great out by the pool or on a patio. I can picture myself now on a chaise...sipping lemonade...a cool breeze blowing my hair. Wait-where was I?

5. Who wouldn't love these Flower Chip 'n Dip Platters. Kid-friendly, both indoors and out!

6. Need new chair cushions? These Deluxe Outdoor Calliope Cushions are both soft and stylish. Love that Honey color!

7. Looking for a unique piece? This Kalika Folding Table is a work of art that's functional, too. Hand-painted!

8. Got a green thumb? Your plants would be so happy in this Metal Plant Stand. I'd love to have a couple of these for my front porch or deck.

9. And for all those backyard cook-outs coming up...how about this Hamburger Condiment Spinner. Is there a cuter way to serve ketchup?

All this stuff and much more awaits you at Pier 1. Visit their site now to sign up for the Pier 1 Outdoor newsletter and receive a special offer for this weekend!

And if you live near Dallas, Atlanta, or New York City, don't miss out on the upcoming Pier 1 Tweetups coming soon! It's the perfect opportunity to meet up at Pier 1 with some of your area's bloggers and tweeters! Mark your calendar with these dates:

Dallas: March 22nd

Atlanta: April 5th

NYC: April 20th

Have you been to Pier 1 lately? What are some of your faves?